So Euphoric, MY ARSE
Finally free of a certain commitment (read previous post), I can finally take time off to have a bit of fun and have wanted to write something happy.

But then last night something completely threw me off till I HAVE to blog about this. If not my soul and dignity will never forgive me.

If you're wondering what this is about. It is about that bloody Ministry of Sound Euphoria in Sunway resort.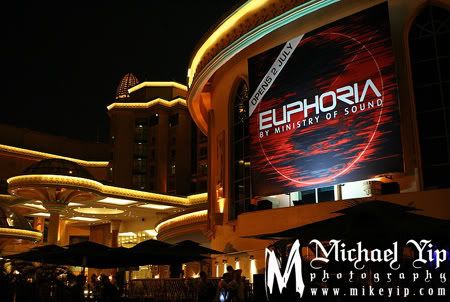 Photo taken from MichaelYip.


When MOS first launched, everyone was ecstatic about it. Queue was incredibly insane and people couldn't stop flooding in to the club. I was away travelling and has been unable to settle down in Malaysia to visit any of these wonderful new clubs that's been popping up around town, since poppy. (OMG that is long!)

So after finishing off my final Master paper two days ago, last night I decided to give myself a break and went out with a few friends to this everyone-has-been club in town.

Everything was fine and peachy, we were ushered to the VIP sector (thanks for Lionel and *update* Wei Jen, is that how you spell your name? sorry I couldn't hear properly over the loud music), had a great time and I was even up at the podium (something I have not done for a LONG time) dancing.

That's when it happened.

As I got off the podium, I caught up with Casey and went behind the staircase away from the podium and the crowd. So imagine this, we were now standing in the passage way, which was wide enough for at least 5 people to walk hand-in-hand through from the entrance to the bar. As we were minding our business, a bouncer, out of no where, brushed him by. Shoulder to shoulder rub.

Usually when that happens, one turn around and apologize briefly, and go on his/her way.

Right?

Not for this guy.

This massive bouncer turned around, and said "You wait here", with a warning tone. And believe me when I say I saw it with my own eyes that he went away, came back briefly and started accusing Casey for blocking the passage. And Casey denied it and said he did not. The bouncer became very pissed off and after a few more debates (and a very brief one at that, I remember it was less than 30 seconds, I didn't hear the exact content over the noisy background but it seemed like a civil debate at the point of time), and put his disgusting hand on Casey's arm and lead him out of the club.

Lionel and I was shocked at the point, didn't know what to do, we followed this bouncer who was showing Casey OUT of the club!!!


Outside, I heard him accusing Casey of pushing him, repeatedly claiming that he was blocking the way and get this, RUDELY pointing his FAT FINGER at him and IN MY FACE when I came in between them to ask what happen.

YOU DO NOT POINT at a LADY. In fact, you DO NOT point at anyone for that matter.


excuse me?! You showed my friend out of the club for blocking the way and accused him for pushing you WHEN I saw it with my own eyes that it was merely a little accidental shoulder brushing?!

What? Are you so TINY and WEAK that someone like Casey can actually PUSHED you while talking to me?! You calling yourself a bouncer? Huh?

MR FAZLI.

If he was even blocking the passage, YOU DO NOT turn around and said "YOU WAIT HERE", you say "sorry sir but can you please move to a side and not block the way". If he was even blocking the passage, and how did, pray I ask, your TINY SO SMALL PUNY LITTLE BODY can go through huh MR FAZLI! Tell me that!

Oh, you know what, that was not the best part! THE BEST PART was when I moved my hand over his finger to literally stop him from pointing his right index finger towards my friend and to my face, you know what he did?! OMG I tell you what he did.

He PUSHED MY HAND away!! WITH FORCE!

NO ONE, I repeat, NO ONE PUSH A LADY'S HAND AWAY.

MR FAZLI!!! I AM ACCUSING YOU FOR PUSHING ME! Yes, I am a weak damsel who just got shoved aside from a MANLY MAN such as yourself.

And for that, I am going to announce your bloody name to the entire world. MR FAZLI.

All this happened when we were outside the club.

YES WE'VE BEEN SHOWED OUT THE CLUB (actually Casey did, me and Lionel just followed him and the MR FAZLI out).

It got even better when I demanded to see the manager.

You know what he said?

He replied, with the most sarcasm tone, and a SMIRK on his face: "you drunk, you go back now" (he pulled a serious face when saying this and then resumed his smirk as if feeling funny a little girl like me is standing up to challenge him).

Excuse me Mr. FAZLI, one do not get drunk from an overpriced screwdriver that tasted more like diluted orange juice than an actual vodka orange concoction. And one definitely do not get drunk from just ONE glass of long island tea, and definitely will NOT REMAIN high when that long island tea was drunk more than an hour ago!

When I demanded to see the manager again, he lifted his head and gestured forward indicating a guy standing at the bottom of the stair. "There, my manager"

I walked to the manager immediately, told him my situation, and you know what he said?!

"We have CCTV and your actions will be caught on TV, leave your contacts and we will find out what happened?"


DID I HEAR A CHALLENGE?! Correct me if I'm wrong, but did the manager just challenged me with the fact that the club is equipped with CCTV and was he calling my bluff?

Too bad I forgot to ask for his name, but I did ask him for that bouncer's name, yes MR FAZLI, your manager gave me your name because he obviously DO NOT GIVE A DAMN ABOUT HIS CUSTOMER and DARED ME TO REMEMBER YOUR NAME FOR I CANNOT DO ANYTHING ABOUT IT ANYWAY! RIGHT?

WRONG!!

We left the club immediately after that (yes we left, no point staying especially since we're no longer in whatsoever mood), feeling absolutely rotten with the night completely ruined. And thank you MR FAZLI, you have ruined my FIRST and LAST visit to EUPHORIA.

To think I even queued for a good ONE HOUR to get in in the first place, feeling stupidly anticipated in the first place to be visiting this ever so famous club in town.

STUPID LONG QUEUE. What's with people queueing for so long to a club, a club which obviously pales drastically in comparison with the MOS in Singapore. Yes they have great music (at least for last night) and non-smoking rule indoor (which is by far the only best thing I can remember now), but I WILL NEVER EVER EVER EVER EVER GO BACK TO EUPHORIA AGAIN. EVER. SCREW YOU.

I QUEUED FOR A WHOLE HOUR TO BE SHOWED OUT TWO AND A HALF HOURS LATER BECAUSE MR FAZLI HAS PMS!

EUPHORIC? MY ARSE!