Mission Impossible: Ghost Protocol @ IMAX TGV Cinemas



"Popcorn Royale is so nice!"

"Popcorn Royale is nicer than Garrett Popcorn!"

"Popcorn Royale is cheaper than Garrett!"


These are the three thoughts that popped in my mind, in that order, the first time I tipped one of the awfully sinful caramelised popcorn into my mouth.





It was the launch of the IMAX at TGV Cinemas in Sunway Pyramid and I was there to watch the latest blockbuster movie: Mission Impossible Ghost Protocol.





Oh god. Tom Cruise. *drool* (we'll get to that later)


There were so many things to look forward to.

First, IMAX is here. And is staying for good. The last time and first time I ever visited an IMAX was in Times Square like eons back and I wasn't really impressed, mainly because they were showing some short film documentary that didn't really bring out what was supposed to be an impressive experience.

But everything changed that day in TGV. Oh yes. It was so bloody amazing.
We'll get to that later, too, soon, very soon.

Now I've always been a little bit crazy of fully caramelised popcorn which was impossible to find in the olden days cinema in Malaysia. But then I discovered Garrett Popcorn in a Dubai mall. It's like rediscovering your favourite candy all over again, I was estastic. And then the stores kept popping up over all Singapore. So I had only had to travel 300kms to get them instead of flying across the globe. Then they were in Malaysia. Yay!

Now I'm not paid to write this. Just want to share my own point of view. I was always a little let down by the sugar burnt aftertaste that Garrett Popcorn has, not sure if it's because Malaysia version tasted different or I forgot how my first Garrett tasted like (back in Dubai). I kinda stopped liking it for a moment.

And then TGV Cinemas introduced Popcorn Royale and it's all HEAVEN again! *sing song*





Even better, I can bring it in to a cinema to enjoy! YAY! Oh no, I'm gonna get so fat. :(

Now back to the main topic, IMAX.





God heavens the movie was GOOOOOOOOOOOOOOOOOOD in IMAX. So good I was BLOWN away in my seat the moment *spoiler alert* Dubai and the Burj Khalifa (Tallest building in the world) came into view on the screen.

I was flying over Dubai!

Wee~~~

And have I mentioned I have the hots for Tom Cruise, like all over again! I used to have a major crush on the said actor when I was younger, then I stopped with the whole idolizing stars phenomena for quite a number of years (it's all growing up).

Till this movie. Oh god I'm so in love with Mr. Cruise.
Hotness x1000000000 e99. ❤❤❤
His age made him all the more delectable.

What's up with my something with older guys? -.-
Maybe this is why.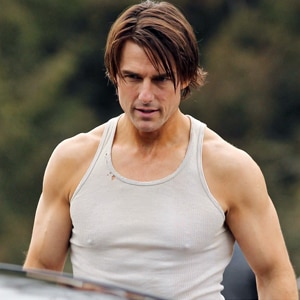 Why was IMAX so good? Well this is my own deciphering, you can google if you want the more accurate explanation. Mine might not be entirely true but then I'm not bothered to google right now (there, I said it).

(quoated from my own fb) It's a technology where it uses digital projector instead of the usual film projector we're used to watch. Means it's crystal clear on cinema screen (like HD) and the screen is in a dome-like shape which means more 3D-effect, the screen is also way bigger to capture you into the movie, even in 2D movies. I can only assume it would be so much more amazing in 3D.

Which is why I'm going back for the 3D version once it's up. :D





The seats were comfortable. But I want to try their Beanie Plex where you get to sit on a beanie seat and watch movie, with your favourite popcorn. ^^





❤